New site goes live(r) today!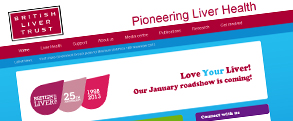 We're proud to have worked with the British Liver Trust to redesign and rebuild their site, which has gone live today! Liver disease is one of the UK's biggest killers but 95% of it is preventable, so we're really pleased to help them continue to fight the causes of poor liver health, support those affected by it and to combat the stigmas associated with the disease.
Audrey Cornelius, Corporate and Trusts Fundraising Manager for the British Liver Trust says "We are so excited about getting our new website today! Epix Media have created a fresh, exciting site that will help visitors easily get information about liver health and find out how they can get involved with the charity. Our old site was a source of frustration – it had so much information but it was really hard to find!"
The whole site has been built so the British Liver Trust can update and maintain it themselves, which means they can focus their funds on their key activities instead. We know that for a charity every penny counts, so it's great to have provided a site that blends function with low maintenance.
We also developed user-friendly tools that work within the WordPress editor, to make sure the formatting is consistent and ensure that the website's look is kept throughout.
Audrey says "As a charity with limited resources it was difficult to keep the site updated, the new one is so much easier and we just love it! The Support Group section is brilliant, with a map so you can see exactly where you can find help across the country, and we love the downloadable publications. Making donations is easier and we are looking forward to people sharing their story through the site, as we've never had that ability before."
We'll soon be moving the "Love Your Liver" campaign site to WordPress so it too can be easily updated.
It's been enormous fun to work with such a prominent UK charity!
Check out the site: www.britishlivertrust.org.uk
Ready to get started?
Our team of creatives work together in a wide range of disciplines, meaning we're able to craft beautifully bespoke creative that will produce results you'll love!