Epix Directors in Lincoln's 30 Under 30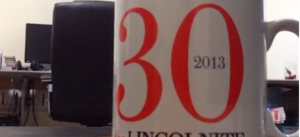 Both Zoe & Will were honoured to both be chosen to be part of The Lincolnite's 30 Under 30 list and were pampered at an exclusive event yesterday evening.
The Lincolnite invited 30 high achievers and businesses owners from around the area that were all under 30 years of age to an event yesterday evening. The list will be published as an app, website and in print over the coming months. Others on the list include Slight of hand Magician Scott Perry, Singer Songwriter Elliott Morris and Footballer Connor Robinson from Lincoln City.
Thank you The Lincolnite, we were so well looked after and so very flatted to be a part of the 2013 30 Under 30!

Ready to get started?
Our team of creatives work together in a wide range of disciplines, meaning we're able to craft beautifully bespoke creative that will produce results you'll love!