Deer, oh deer!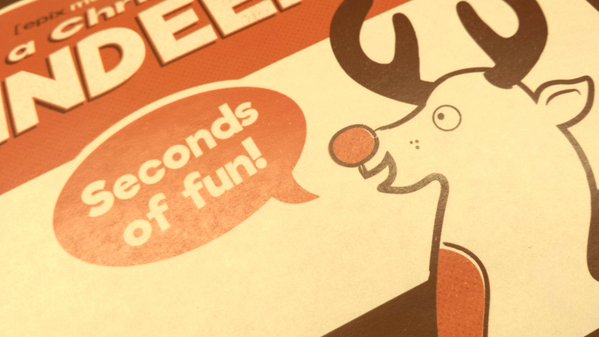 One of our favourite things about the holiday season is sending out fun little gifts to clients we have worked with throughout the year. This time, our #EpixXmas treat was a DIY Reindeer kit, which included a wooden reindeer ornament, a flat-pack style instruction manual of how to piece it together, and materials for decorating it.
The reindeer were packaged together with a one-of-a-kind Christmas card created by our Graphic Designer, with festive depictions of each Epix Media team member. Our unique instruction manuals were also included in our gifts, which provided recipients with the name of their new little pet, including;
Adobe – Adobe is very popular, and is the leader of his own gang, which includes members called Premiere, Photoshop and Illustrator. All hail Adobe!
Clip – Poor clip is always having his sentences interrupted – it's like he's always being edited!
Digi – Digi has become increasingly popular throughout the ages, and is actually in charge of all the other reindeer.
Echo – Echo is quite the cheeky chappie. His favourite game to play is to repeat what you're saying over and over again. He loves playing it most in wide open spaces, but get's tired and gives up eventually.
Gif – Although no one really knows how this little fellas name is truly pronounced, he is loved by all!
Javascript – Javascript speaks a different language to all the other reindeers, and (for some reason) is really popular with web developers. Who knew?
Mic – As one of the loudest member of the family, Mic gives a voice to those who wish to be heard. He's a real all-rounder, and loves nothing more than showing off his real talent – forming waves!
Pantone – Pantone is a colourful character. One minute he's overwhelmingly orange. Then he's blissfully blue. His favourite colours, though, are white, black, and everything in-between!
Pixel – Pixel is the smallest of the family. He is so small, in fact, you can barely see him with the naked eye! Still, he is very deer to all of us.
Snap – Snap is a real confident guy, and loves to be in the limelight. You are sure to find Snap wherever there's a camera, whether it's at a bustling live event, an educational conference, or even during the construction of a building!
Images of completed deer came flying through the twitterverse (almost at the speed of real reindeer on Christmas Eve, actually!) and we thought we would showcase some of the best. Take a look through our gallery – we think some of them are so festive they even put Rudolph to shame!
Ready to get started?
Our team of creatives work together in a wide range of disciplines, meaning we're able to craft beautifully bespoke creative that will produce results you'll love!