Charity Win Helps Youngsters Fly High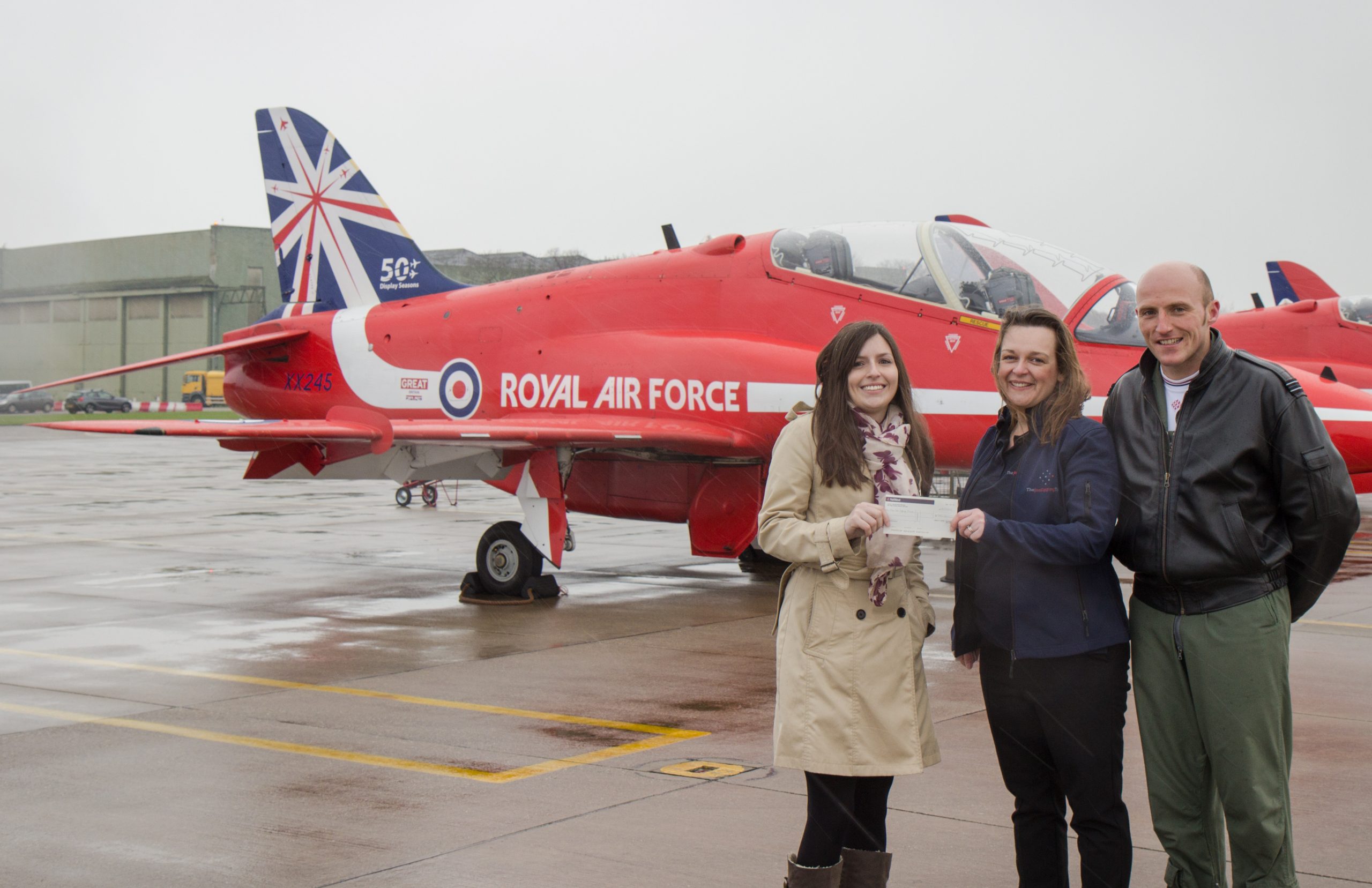 Lincolnshire charity The Jon Egging Trust has received an unexpected boost to its funds after winning an online design competition.
The Trust rose to a challenge set by Lincoln-based digital company Epix Media to design a bauble for its online Christmas tree. Charity fundraising manager Rachel Hewitt couldn't resist the opportunity, after spotting a special "bauble maker" set-up by Epix's web development team.
"After updating some details on our Trust Twitter account – @JonEggingTrust – I noticed the bauble competition, so I decided to unleash my creative energies and came up with a quick design based upon our charity logo," she said.
"It was great when we heard we had won the competition and that we would be getting a new year gift of £100 for the charity. It will help us to continue with the work which we do in Lincoln.
Direct Zoe pictured with Rachael Hewitt from the Jon Egging Trust and Flt Lt Steve Morris, RAF Aerobatic Team/Red Arrows pilot (Red 7)
The Jon Egging Trust was set up in honour of Flt Lt Jon Egging, who tragically lost his life during a display at the Bournemouth Air Festival, during his first year with the Red Arrows.
It aims to work with young people to give them opportunities designed to help them to achieve their full potential.
"The Trust continues to grow and expand. February sees new Blue Skies Programmes launch in Lincoln, as well as across the country. We also support young people in Yorkshire, Dorset, Norfolk and North Wales," said Rachel.
"We couldn't do any of the work we do without the donations we receive from individuals, groups and companies like Epix Media, so thanks to them again for the opportunity."
Epix Media director Zoe Easey said: "The competition attracted some wonderfully creative responses, but we thought Rachel's design was fantastic and had real meaning to it. We're delighted to have donated £100 to help the charity with its outstanding work.
"As a growing business, it's great to help the local community in this way."
Ready to get started?
Our team of creatives work together in a wide range of disciplines, meaning we're able to craft beautifully bespoke creative that will produce results you'll love!