60,000 visitors will become 'Stars' of the Show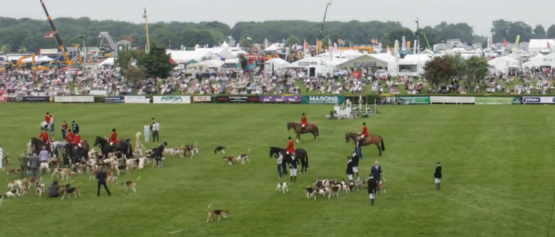 FOR the first time ever, this year's Lincolnshire Show will be filmed for a 'time lapse' video – showing visitors, cows, pigs, sheep and goats all arriving at the showground.
The 60,000 visitors, Lincolnshire Agricultural Society members, animals, farmers and traders, will be filmed by cameras placed on rooftops to capture the activity from a bird's eye view to illustrate the 200 acres fill up over a few days. Two cameras played at key vantage points at the showground will take one photograph every 30 to 60 seconds, every hour, across ten days. Overall, there will be 14,000 photographs which will be edited down to two minutes of final video.
Showground bosses have appointed Lincoln-based Epix Media to do the film.
Jayne Southall, director of the Lincolnshire Show, said: "This will be the first time the Lincolnshire Show has been recorded in this way. It will be a fantastic piece of footage, allowing people to see the show transformed from green field to setting up, to fully open and receiving thousands of visitors – all in the blink of an eye! We are really looking forward to being part of it. We thought the film would be a great way of showing people – in just two minutes – the huge amount of preparation that goes into making the show the huge success it is.
"It will be really interesting to see how this huge event comes together – from a bird's eye view."
Will King, from Epix Media, said:  "We're really excited to be capturing the set-up of the Lincolnshire Show using time-lapse. We will have thousands of photographs to edit down into a short film. We are looking forward to being involved in the project – and filming what is now a county institution. Not only will we produce a final video, but we will be issuing a short clip of the show setting up on 19 June as the gates open."
The full time-lapse will be released on the @LincsShow Twitter page in July, and on www.lincolnshireshow.co.uk.
Another first this year will be a blogging team – from the University of Lincoln who will be telling the 129th Lincolnshire Show story through social media.
The show team is working with Siren FM and Southside Broadcasting presenter and senior lecturer in media, culture and humanities Alex Lewczuk to create a blogging team brimming with talent and looking for journalism experience at the county's best day out for the whole family.
The team will be interviewing and photographing visitors, traders, activities, HRH the Countess of Wessex on Thursday, the Red Arrows displays and the Dakota flypast, the Kids Zone, the Land Rover Experience off road course, The Clydesdale Bank Main Ring and The Duckworth Isuzu Main Ring and much more.
"We're delighted to have Lincoln University students Katie, Laura, Ben and Oliver blogging for us at the 129th Lincolnshire Show," added Jayne.
Over the past three years, the show has increased its social media coverage and 2013 is going to be no exception. With nearly five million Twitter impressions over two days in 2012, the target is to beat this figure in 2013.
The team will have full reign of all 200 acres of showground and will be tweeting @lincsshow, blogging onwww.lincolnshireshow.co.uk and uploading youtube videos constantly throughout the run up and two days of the show.
Lincolnshire Show Information 
The 129th Lincolnshire Show will take place on Wednesday 19th and Thursday 20th June 2013
Open daily from 8am to 6pm
Advanced Tickets are available
2013 Ticket Prices
Adult £22 (advanced £20)
Young person – age 17-22 – £16 (only available in advance)
Child – age 5-16 – £7 (advanced £6)
Family – 2 adults, 3 children – £47 (advanced £42)
Group Ticket Prices (more than 15 people)
Adults £16
Young Person (17-22yrs) £12
Children £6
To book Tickets call 08452305171
Or visit www.lincolnshireshowground.co.uk
Social Media Links
Twitter: @LincsShow
Facebook.com/LincolnshireAgriculturalSociety
Instagram: ShowgLincs
Ready to get started?
Our team of creatives work together in a wide range of disciplines, meaning we're able to craft beautifully bespoke creative that will produce results you'll love!